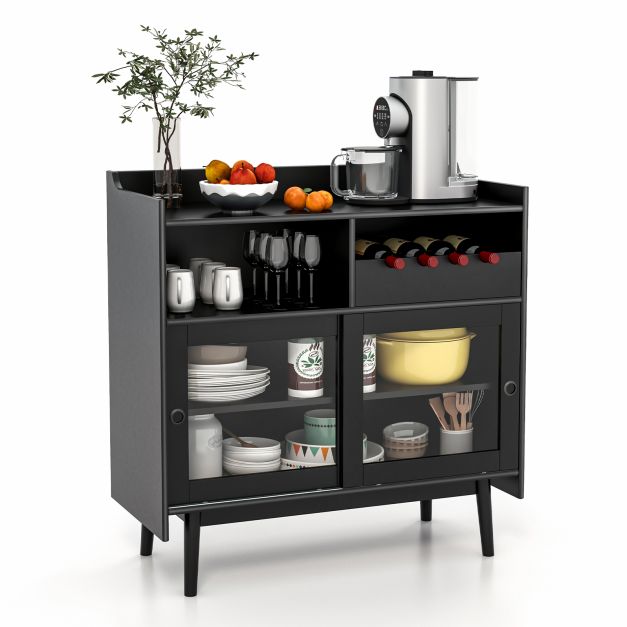 Buffet Sideboard with 2 Sliding Tempered Glass Doors
84601379
by COSTWAY
Free returns within 30 days
This buffet server sideboard set would be one of the appropriate choice for you to organize your kitchen supplies.
You are capable of classifying items by means of multiple storage options, including cabinet top, open cubby, and tempered glass cabinet. More, 3-position adjustable shelf provides flexible storage space for different sized kitchen supplies and the wine rack well protects 4 wine bottles from breakage. Practical sliding door is designed to make items easily accessible. Solid wood legs mean better durability, longer life span and higher sturdiness. provides reliable support. Additionally, the bar cabinet features modern design and elegant appearance, which is a practical and great addition to dining room, kitchen and living room. 
Sufficient and Classified Storage Space: The wide cabinet top with raised edges facilitates the placement of household appliances and the open cubby brings much convenience to fetching items. Additionally, the 2-door cabinet moves smoothly on the bottom metal track, which provides large enough space for all sorts of kitchen supplies.
Adjustable Shelf and 4-bottle Pull-out Wine Rack: 3-position adjustable shelf inside provides customize storage space for different-sized items like dinnerware, kitchenware, and glass. Plus, you can remove the shelf to make it a larger storage cabinet. The pull-out wine rack is added to store 4 wine bottles, which can protect them from breakage.
Sturdy Construction with Thickened Material: This pantry storage cabinet is made of a thickened board for longer service time, which is a firm and well-made piece. Tempered glass doors are designed for enhanced visibility. Solid wood legs ensure sturdy construction to support multiple items.
Modern Style for Multi-scene Application: Its modern style matches well with home decoration and adds a different flair to the kitchen, dining room and living room. Whether used as an accent cabinet, buffet sideboard, and wine cabinet, the cupboard will undoubtedly be an ideal option.
Guide for Assembly and Clean-up: The buffet table can be installed easily according to the instruction. All hardware and parts are given a number to help you shorten assembly time. And the clearance from the ground to the cabinet measures 8cm, providing enough space for floor cleaning.
Specifications
Colour: Black
Material: MDF, tempered glass, solid wood
Product size: 90 x 40 x 92 cm (L x W x H)
Size of open cubby: 43 x 37 x 20 cm (L x W x H)
Size of single door cabinet: 46 x 40 cm (L x W)
Size of wine rack: 28 x 6cm (L x W)
Height of raised edge: 8 cm
Clearance from cabinet to ground: 15 cm
Weight capacity of cabinet top: 50 kg
Weight capacity of wine rack: 10 kg
Weight capacity of shelf: 20 kg
Net weight: 32 kg
Package includes:
1 x Buffet sideboard
1 x User guide