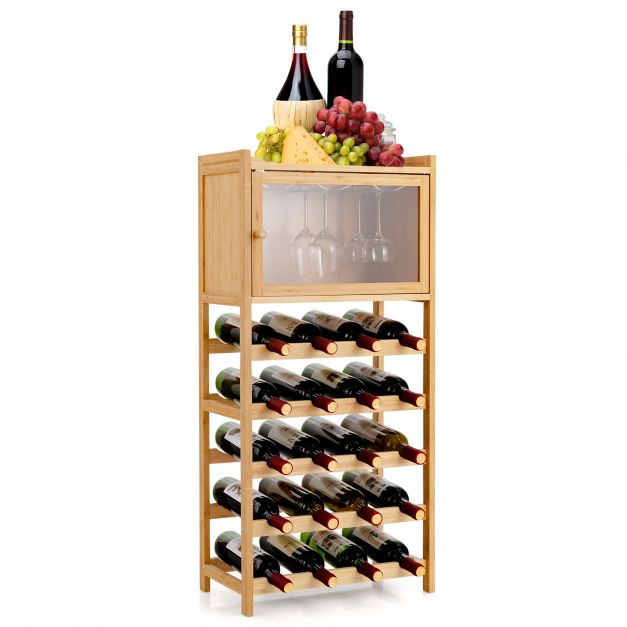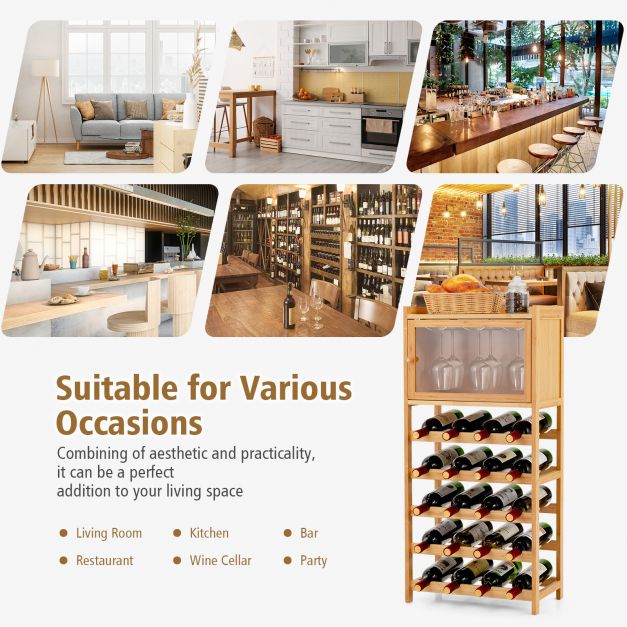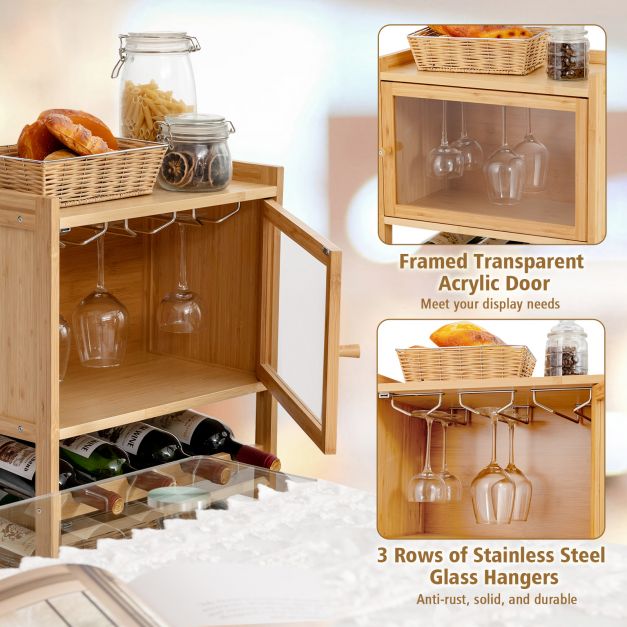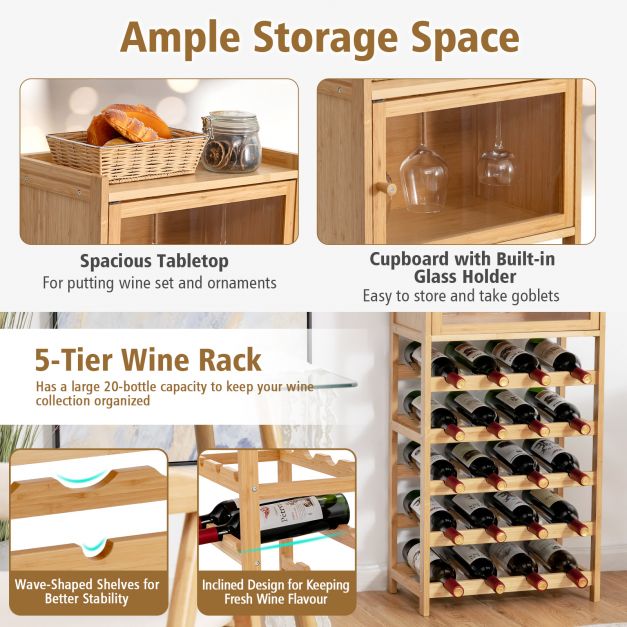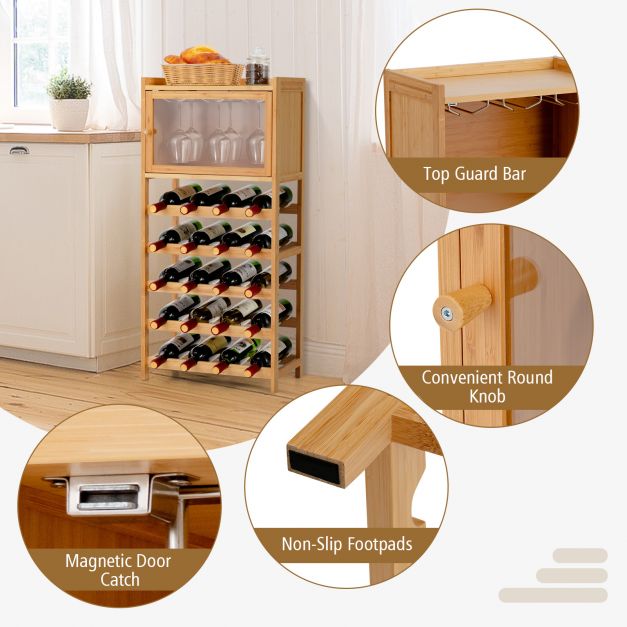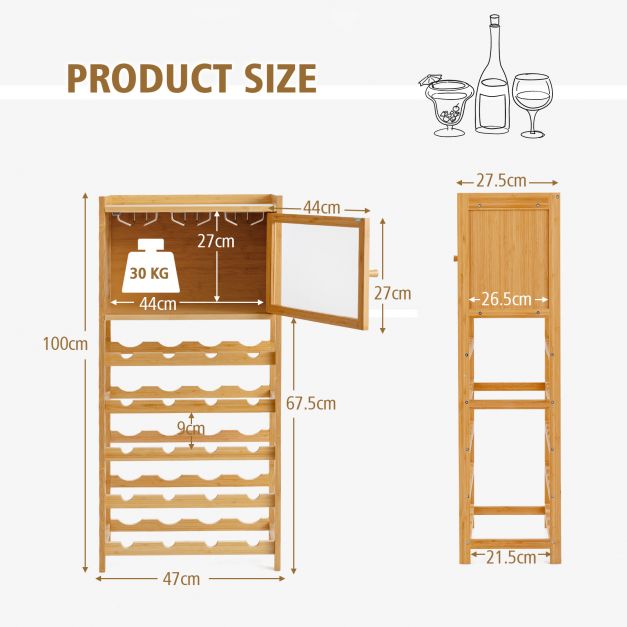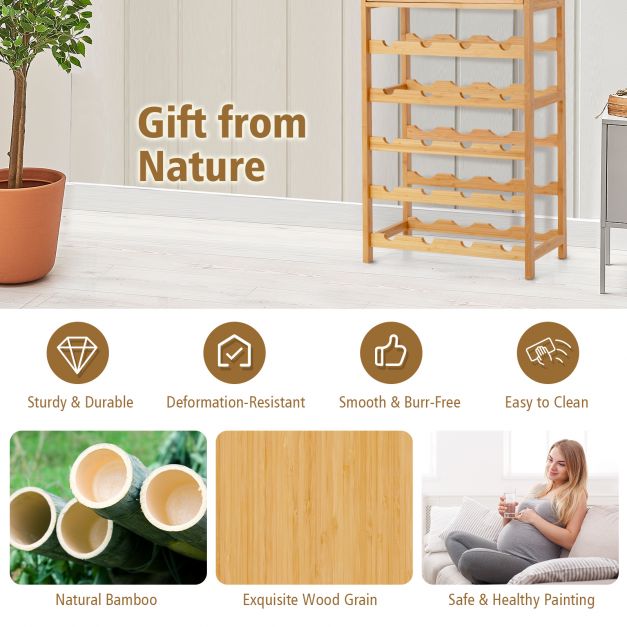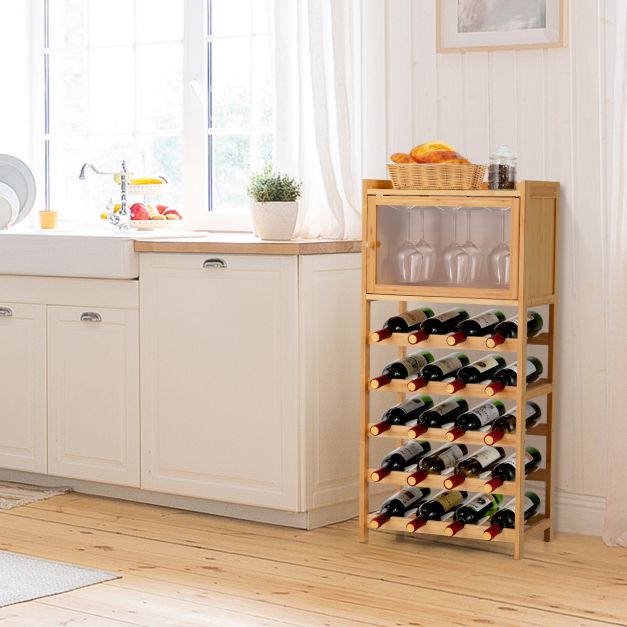 20 Bottles Bamboo Wine Bar Rack Cabinet
02175839
by COSTWAY
Free returns within 30 days
Make your wines well organized while keeping them fresh with this 20-bottle wine rack cabinet! Featuring a 3-row stemware holder and a 20-bottle wine rack, this wine storage organizer provides you with large storage space for your wines and glasses while allowing you to get them together for great convenience. And the countertop brings extra storage space as well. In the process of storing wines, the tilted angle will keep them fresh for a better taste. Likewise, the solid bamboo material and high-quality MDF ensure higher durability and stronger stability. No matter wherever you place this wine storage rack, it will always show you a rustic addition.
Large Storage Capacity: This wine rack cabinet features a large countertop with 3-side protections, a 3-row stemware rack and a 5-tier wine storage rack that is available for hanging 6 wine glasses and ready to hold 20 bottles.
Keep Your Wine Fresh: This wine bottle organizer is designed with wave slots with tilted angles, which not only keeps each bottle stable but maintain your wine fresh, bringing perfect protection for your wines.
Stable Construction: Crafted of solid bamboo wood and durable MDF, this wine storage rack comes with strong loading capacity to hold your wines and glasses steadily. Besides, the 0.7" thickened frame enhances overall stability.
Rustic Appearance: With a natural colour and transparent acrylic door, this freestanding wine rack cabinet adds a rustic addition to blend seamlessly with your home decoration so that you can place it in the living room, kitchen or dining room.
Simple Installation: The assembly of this wine bar rack cabinet is quite easy. The detailed instruction and all needed accessories are included to help you install it. And the smooth surface is easy to clean.
Specifications
Colour: Natural
Material: Bamboo, MDF, Stainless Steel, Acrylic
Product Dimension: 47 x 28 x 100cm (L x W x H)
Wine Rack Height (from bottom to top): 8 / 20 / 33 / 46 / 59cm
Inner Dimension of Cupboard: 44 x 26 x 27 cm (W x D x H)
Maximum Capacity of Cabinet Top: 30 kg
Maximum Capacity of Cupboard: 20 kg
Maximum Capacity of Wine Rack: 20 kg
Net Weight: 8 kg
Package Includes: 
1 x Wine Storage Shelf 
1 x Instruction Manual