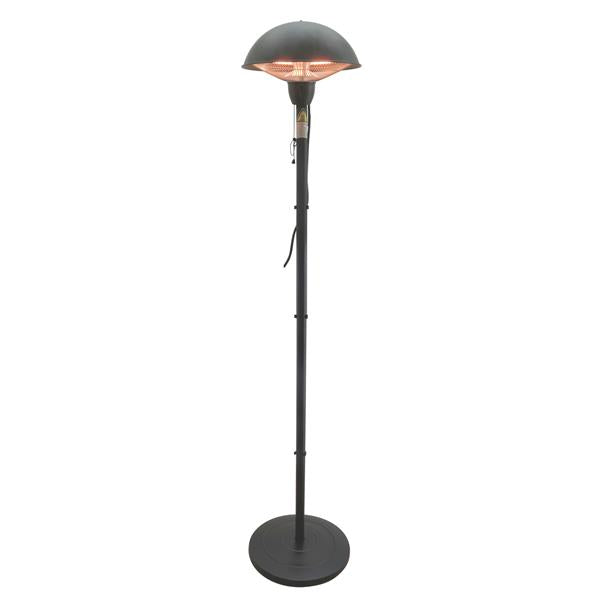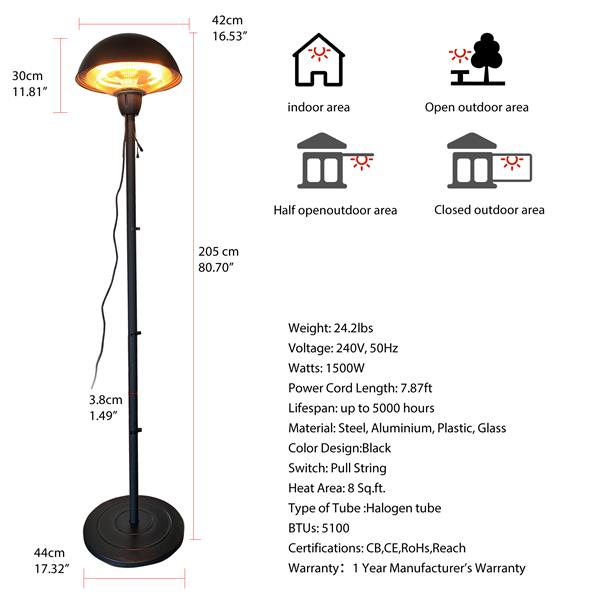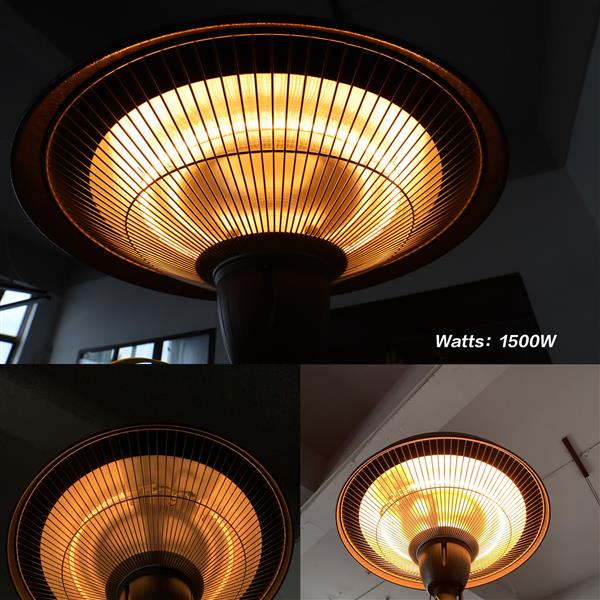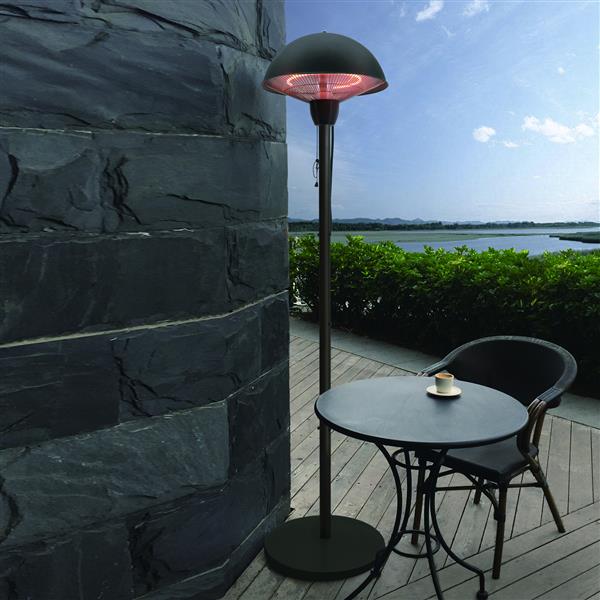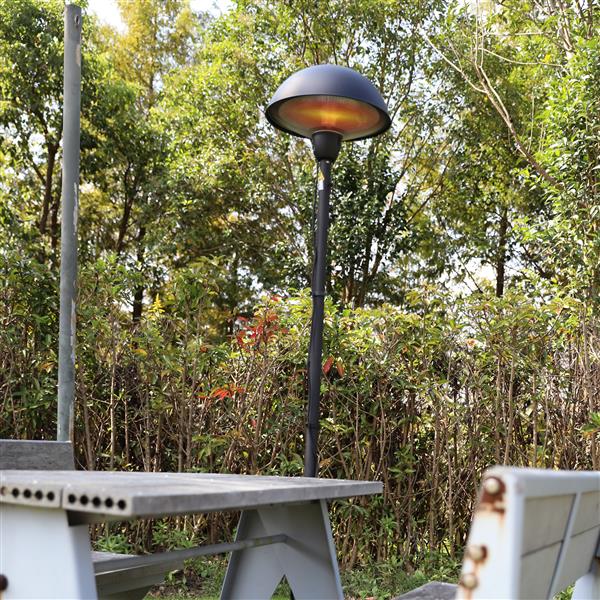 Outdoor Freestanding Electric Patio Heater, Infrared Heater Portable Heater ZHQ1566-B-S
29628-98085622
Free returns within 30 days
Introduction: 
Outdoor Freestanding Electric Patio Heater, Infrared Heater, Hammered Bronze Finished, Portable Heater suitable as a Balcony Heater, BBQ and Outdoor Party Heater. Single Halogen Lamp  ON-OFF (e.g.0 / 1500W)
ELECTRICAL VS GAS
1) Safer and cleaner to use. Does not output CO2 like propane or natural gas heaters that burn fossil fuels. 
2) No dangerous tanks, no plumbing and no ventilation needed. 
3) Mount horizontally or vertically.

WHY SHOULD I CHOOSE AN INFRARED HEATER (ELECTRIC HEATER)? 
Electric heaters have several advantages
The heat warms objects over a wide area, which means you and your guests have a larger area in which you can stay warm in. 
The electric heater doesn't have a flame and it doesn't burn oxygen, making it much safer and a more suitable option to use indoors than heaters with real flames.

Safe - no worries about pressurised gas or storing cylinders and, unlike gas, no annual servicing
Silent - it's electric
Clean - no smells and virtually maintenance-free
Compact - clean and easy to store
Effective - infrared rays warm instantly, giving a feeling of comfort from the moment it is switched on
Efficient - unaffected by drafts
Economical and environmentally friendly - Low running costs, calculated at just 18p per hour, approximately one third the cost of gas heating.
*Easy to Use: Provides instant, steady, quiet heating. Heats up to 8 sq.ft. Minimal set-up required with just a pull string switch. 5100 BTUs. Don't forget to check Amazon listings for our sister product. A perfect match, high-end, advanced series of electric tabletop heater .
*Safe to Touch: Safety auto shut-off in place for tip-over protection. Constructed with high-end materials and an anti-skid design on the heater base. This heater is stable and a functional addition to any space where you need a little more heat. It will turn off if tipped over.
*Newest Unique Designed Extras: Built to be portable and fashionable in a hammered bronze tone.This heater is perfect for outdoor decoration and function. Two adjustable height from 6.5 ft to 5 ft make this heater more user-friendly.
*Safe and Environmentally Friendly: This electric patio heater produces no odours, chemicals, or fumes. The high quality, infrared heating is hardly affected by wind. Industry leading halogen tube technology heats efficiently with a lifespan of up to 5000 hours.
*Certified and Warrantied: IP44 certified; weather and dust resistant for outdoor use. CB,CE,RoHs,Reach Certified. Comes with a 1 Year Manufacturer Warranty.
Dimension:17' in Length , 17'' in Width and 77.5'' in Height
Weight: 24.2lbs
Voltage: 240V, 50Hz
Watts: 1500W
Power Cord Length: 7.87ft
Lifespan: up to 5000 hours
Material: Steel, Aluminium, Plastic, Glass
Colour Design:Black
Switch: Pull String
Heat Area: 8 Sq.ft.
Type of Tube :Halogen tube
BTUs: 5100
Certifications: CB,CE,RoHs,Reach
Warranty:1 Year Manufacturer's Warranty
1 x Electric Patio Heater
2 x Screws (3.5*14MM)
3 x Coil Holders
1 x Screw (M8*40)
1 x Flat Gasket
1 x Spanner
1 x Base Plate
1 x User Manual