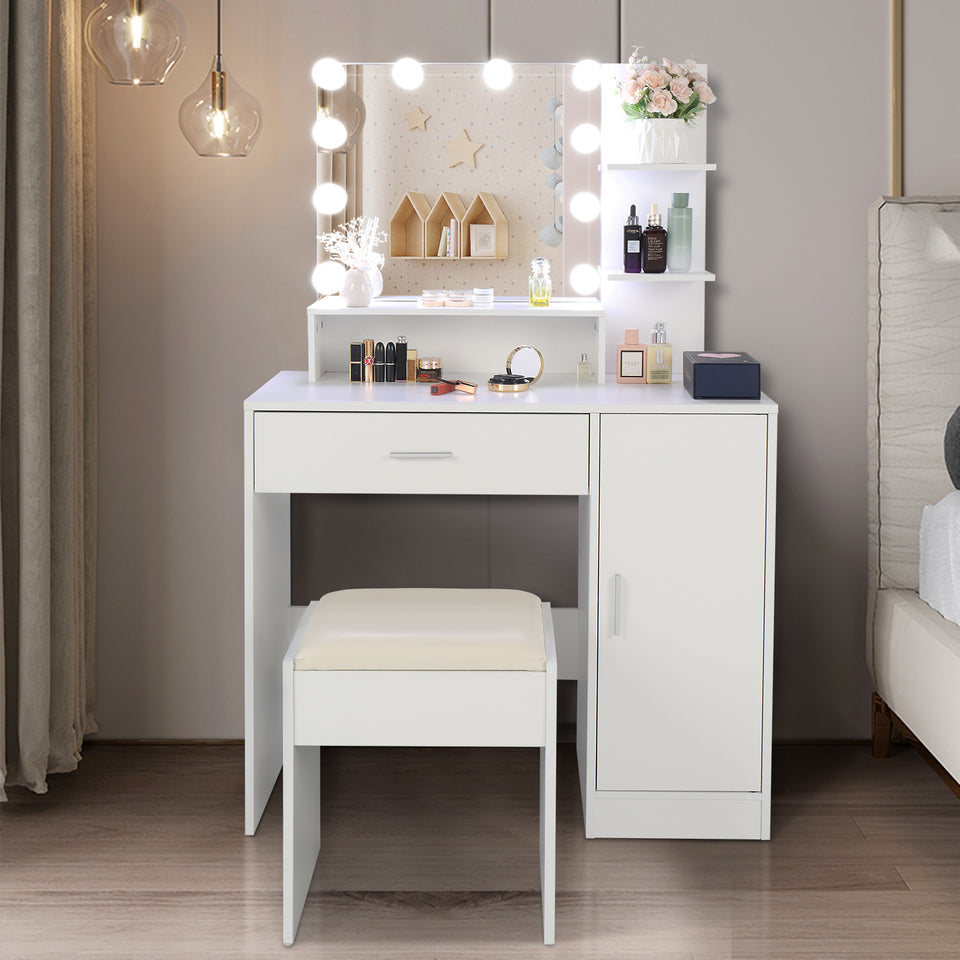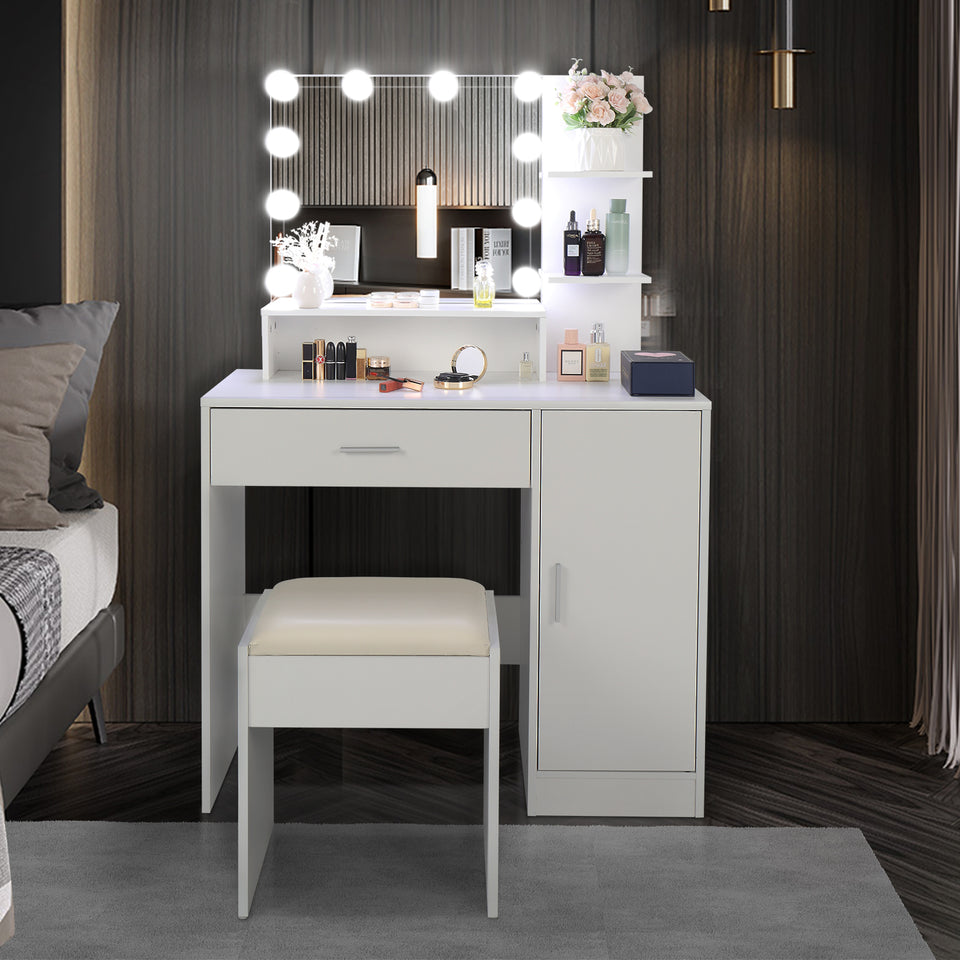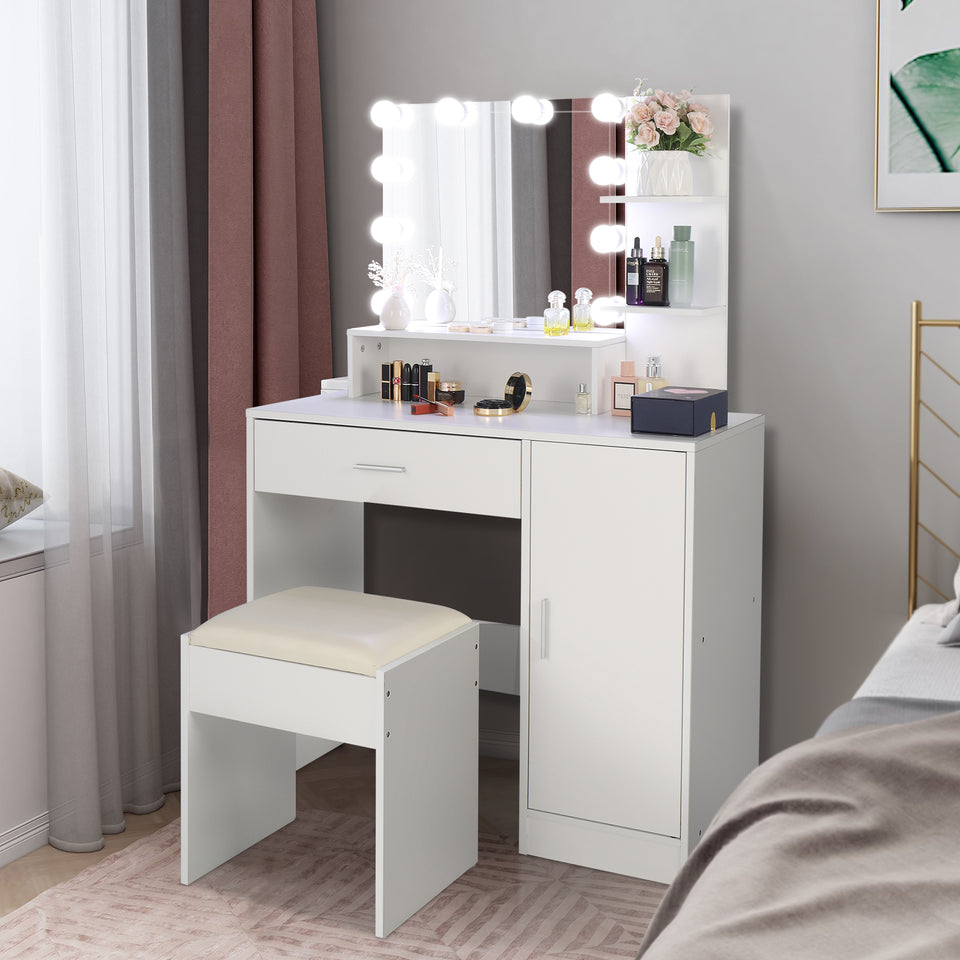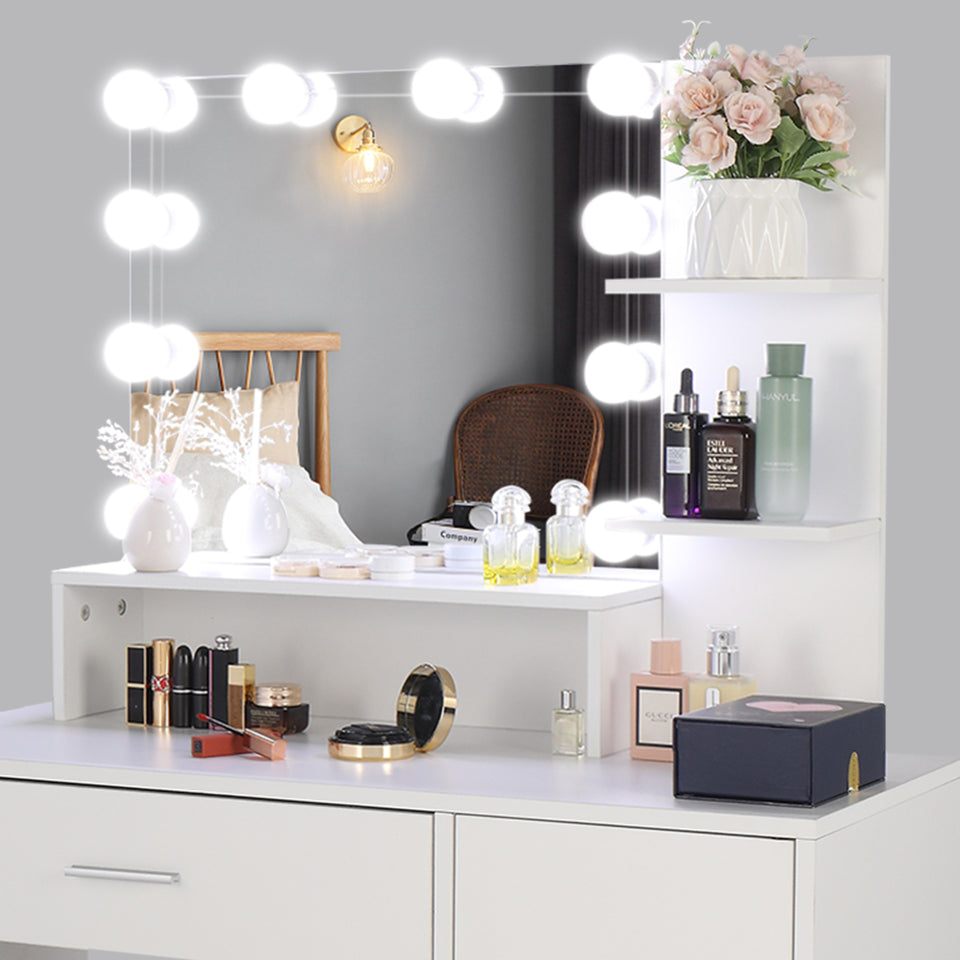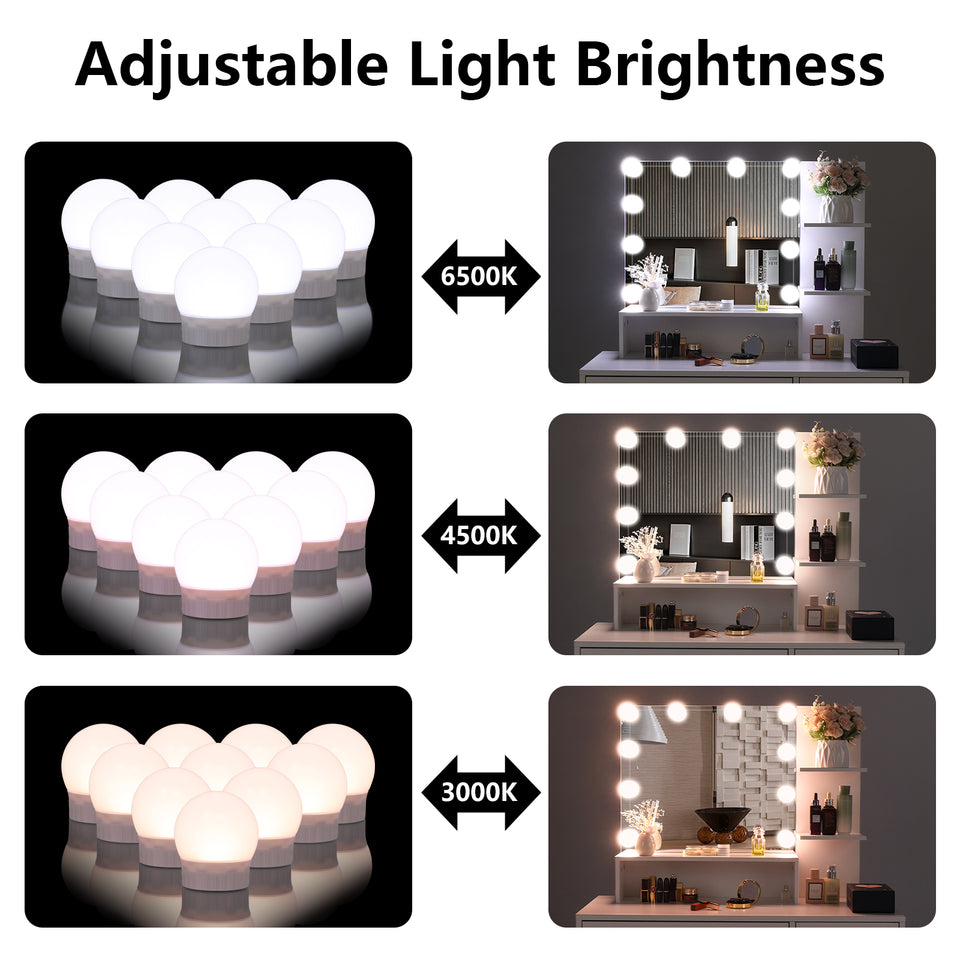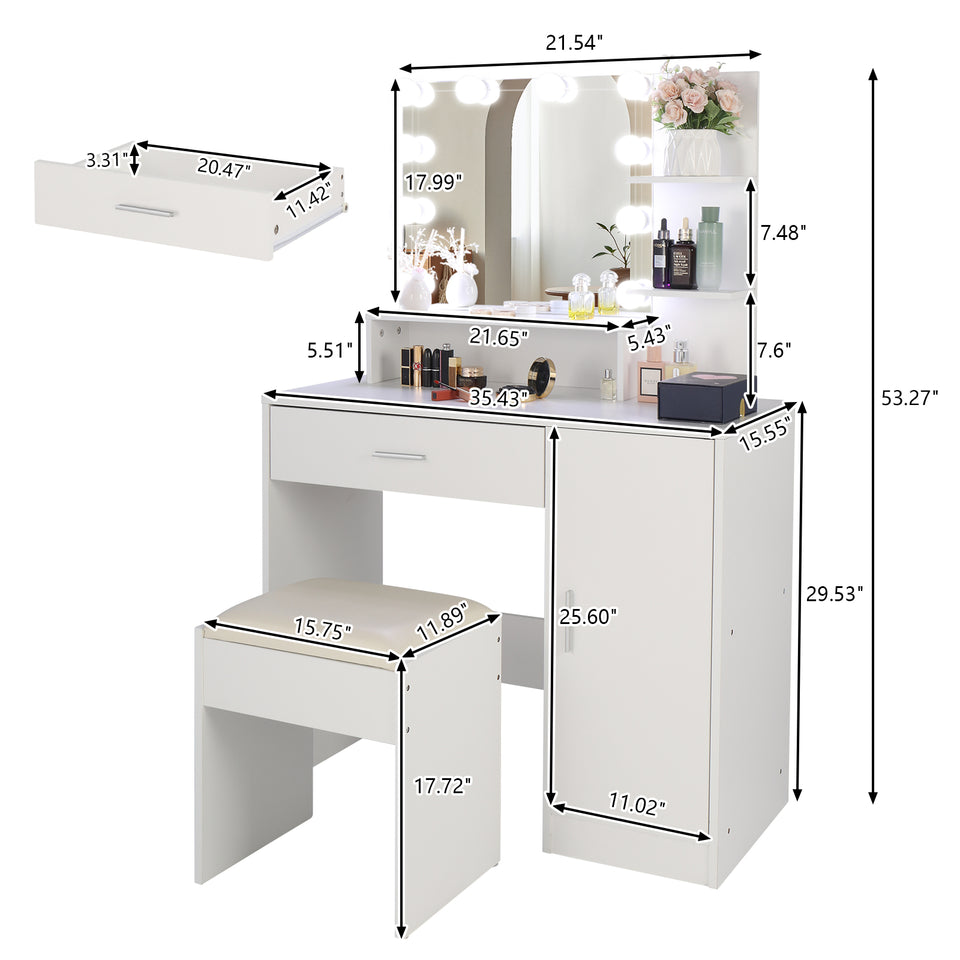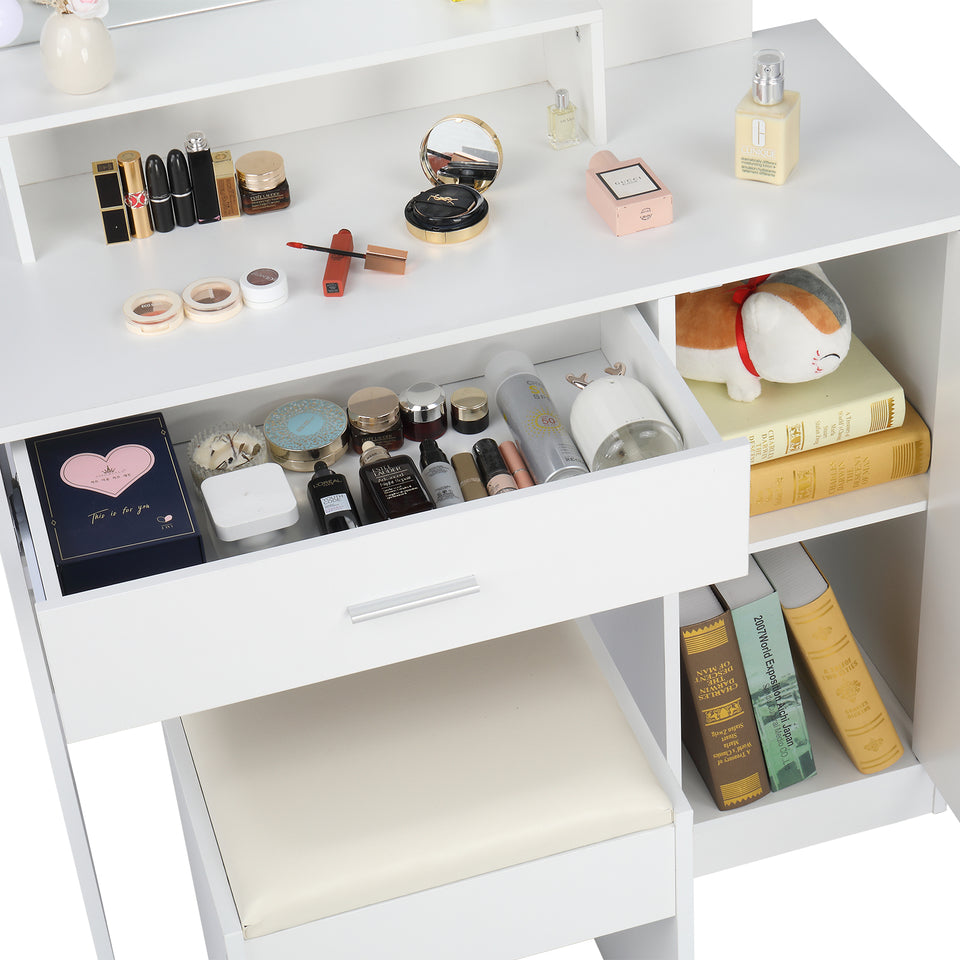 Large Vanity Set with 10 LED Bulbs, Makeup Table with Cushioned Stool, 3 Storage Shelves 1 Drawer 1 Cabinet, Dressing Table Dresser Desk for Women, Girls, Bedroom, White
52930-50529710
Free returns within 30 days
Introductions:
This is a super functional, modern style vanity set that comes from FCH. Also features a lighted mirror and matching stool.
Features:
1. Gorgeous Hollywood style illuminated mirror: 10 LED bulbs on the mirror will illuminate evenly from all directions, helping you create the best look with your makeup. The color of the light is adjustable so you can get just the right lighting for you and your room.
2. Ample storage capacity: Built with 3 shelves, a large drawer and a cabinet, staying organized has never been so easy. Open Shelves on table top are also a good place to showcase your picture frames, jewelry, flowers and more. Tiered storage in the cabinet makes items easy to find.
3. Higher level of craftsmanship and quality: Crafted from strong golden metal frame and top grade particle board, this makeup vanity with lights will serve you for years to come.
4. Stylish and functional: This vanity table has a versatile look that complements a wide variety of room decor. A large table top is ideal for keeping all your makeup, perfumes and trinkets within an arm's reach.
Specifications:
1. Material: Particleboard
2. Color: White
3. Function: Three-color light
4. Overall Size: (35.43 x 15.55 x 29.53-53.27)" / (90 x 39.5 x 75-135.3) cm
5. Mirror Size: (21.54 x 17.99)" / (54.7 x 45.7) cm
6. Cabinet Door Size: (11.02 x 25.6)" / (28 x 65) cm
7. Stool Size: (15.75 x 11.89 x 17.72)" / (40 x 30.2 x 45) cm
Package Includes:
1 x Dressing Table
1 x Stool
1 x Instructions
1 x Accessories Pack